Samsung J5 Prime 7.0 Frp Bypass
FRP Bypass Android Nougat 7.0 to 7.1.1 2019, Removing Factory Reset Protection aka FRP lock from android devices is being very handy for us. We have provided many easy and free of cost workarounds to bypass FRP from many Android devices time-to-time.
تخطى حساب جوجل اكونت اصدار اندرويد 7 اخر حمايه 2018Samsung J7 Prime 7.0 Nougat Frp Bypass Google SAMSUNG GALAXY J5 PRO Bypass Google Account without PC. طريقة تخطي حساب جوجل بعد فورمات سامسونج جي 5.
Android Lollipop 5 and Marshmallow 6 are way more easier when it comes to break the FRP lock. But when we talk about Android Nougat 7 or Android Oreo 8, things get difficult and more complicated.
IMyFone LockWiper (Android) is the best solution there is to bypass FRP lock on Samsung J5 smartphones. This computer program doesn't only remove FRP lock, it offers flexible unlock mode for all Android device screen locks such as PIN, pattern, password, fingerprint, facial recognition. 1,000,000+ Downloads. Samsung galaxy j5 prime sm g570f Download Bypass google FRP for android - universal version, android Gingerbread version 2.3 - 2.3 2010 year, android Ice Cream Sandwich version 4 2011 year, android Jelly Bean version 4.1 - 4.3 2012 - 2013 years, android KitKat version 4.4 2013 year, android Lollipop version 5 - 5.1 2014 - 2015 years, android Marshmallow version 6 2015 year, android Nougat.
Why the previous FRP bypassing methods don't work?
With every new update from Android getting new security features and fixing the loopholes. That makes the device more secure as nobody wants their device to be stolen by someone with bypassed FRP lock.
Follow this step-by-step FRP bypassing tutorial in the video below:
Bypass FRP from Android Nougat 7.1.1:
RECOMMENDED ITEMS:
1. You need a Bluetooth call receiver.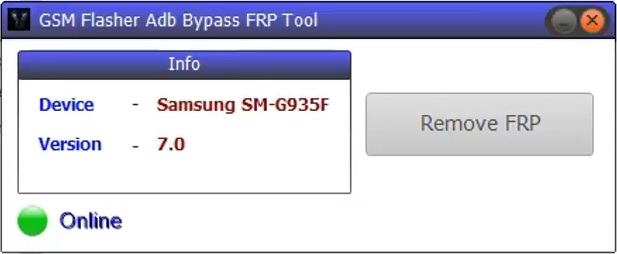 2. Type this code in the Calculator: (+30012012732+
(Typing this code inside the calculator will give you access to the DRParser Mode)
3. FRP BYPASS CODES dial this inside the DRParser Mode:
For International Cellular Dial: *#0808#
For US Cellular Dial: ##366633#
4. Computer or Laptop.
5. Software to "FRP bypass on Nougat 7.1.1 by GSM Flasher FRP".
Below are the messages which i received from many users about missing "Create Contact" option while applying the previous bypass FRP lock method.
Infra Said:
For Nougat there is no way to open "Contacts" while calling. Is there any workaround? Downgrading to Marshmallow is impossible. Thank you.
Louise Said:
Hey mate,
on my Samsung S8+ (955U) there is no "Create Contact" during the call. Should I downgrade from Android 7.0 to 6.0 and try again?
Also should I use combination files for down/upgrading firmware or they are just for locked devices?
Mason Said:
"Thanks for the tutorial man. I have an S7. My issue is I can't create a contact. I can't slide the screen and when I end call it doesn't give the option to create contacts. Is there any other way to create one?"
Kevin Said:
"Dear Admin, thanks a lot for detailed guide.
However i have unique problem on device Samsung J510FN i have followed all steps successfully until call part.
I have managed to establish call but problem is that i don't have option on screen to save nr. to contacts.
Actually only two options on post call screen are present "call" and "video call", everything else is white around and it doesn't show any other option as it should be.
Do you have any ideas/experience what is problem here and how to solve it?
I appreciate any help!"
Sam Said:
"Hello everybody!
I have tried this and other methods with Odin and Sidesync, but none of them worked for me.
I can get to the part where i call a number, but as soon as i hang up or end it the number stays on the screen for a second and the rest of the screen is empty, no create contact, nothing. I was wondering if i am doing something wrong and if there is a work around this problem of mine!"
Create Contact Option does not appear while bypassing FRP lock:
Now, the major issue they are facing this missing option of "Create Contact" after ending the call. The main reason why they are facing this issue as these users are having the Android Nougat or Oreo in their devices.
As I mentioned above, Android is fixing all the loopholes with their latest updates. Fortunately, we got a working guide for Android Nougat and Oreo users and we decided to post this on our website to help you out from this issue.
After having all these recommend items for this FREE guide. Follow the step-by-step tutorial to "bypass FRP from Android Nougat 7.0, 7.1, 7.1.1" from the video i posted above.
Last Words:
Using this guide will help you to completely remove and deactivate Factory Reset Protection inshort FRP from any android device.
This specific method is made for "Android Nougat 7.0, 7.1, 7.1.1" devices. For Android lollipop 5.0, 5.0.1, 5.1.1 and Marshmallow 6.0, 6.1, 6.1.1 you can use the previous method which works perfectly for these android versions.
On condition that you're still facing any issues regarding this updated 'method to bypass FRP from Android Nougat 7.x.x'. Feel free to comment below about the problem and we are here to help you out.
FRP Bypass from Android Nougat 7.0 to 7.1.1 2017 [Latest Method]
Description
FRP Bypass from Android Nougat 7.0 to 7.1.1 2017. Bypass Google account using FRP removal tool from GSM Flasher FRP for Samsung Galaxy Note 8, S8, S8 Plus.
Author
We are going to unlock FRP in Samsung Galaxy J5 Prime SM-J500F J510MN G570F G570M J530G. this solution is also working in all other Samsung mobile phones which have android marshmallow 6.0.1 android version. I have made the step-by-step solution for unlocking or remove your FRP lock in Samsung mobile phone.
Contents
1

Remove FRP lock in Samsung Galaxy J5 Prime.

2

Step-by-Step bypass FRP lock in Samsung galaxy J5 Prime

2.1

FRP unlock tools for Samsung galaxy J5 Prime.
Working on
SM-J500F
J510MN
G570F
G570M
J530G
Samsung J5 Prime 7.0 Frp Bypass Problems
Samsung Galaxy FRP Remove (All Success)
You can see this mobile is locked by FRP lock. I am going to unlock this device without any PC or computer.1st of all you have to reach on lock home screen press two fingers on the screen when you will see talkback option. Create L guess On top makes the tutorial screen. when a menu appears on galaxy J5 Prime select talkback settings.
FRP unlock tools for Samsung galaxy J5 Prime.
Turn off Talkback (press home button three times). Sometimes you have to press volume down and volume up keys at the same time to turn off Talkback. No scroll down the screen and select help and feedback option this option can be found last three option. In the helper screen select (get started with voice access) If you see all video click on the clock icon on YouTube video, it will open YouTube application.
Open Google Chrome in FRP locked mobile.
Now select Google Chrome. Also, select Accept and continue On chrome browser. after open chrome browser clicks on the search field.
Install Google account manager in Samsung J5 Prime.
Are going to download Google account manager from Bango.N.I am going to download Google account manager 6.0.1 because I have an android version marshmallow click on download link in the Chrome browser click update permission and click okay to download.
After download Google account manager 6.01. Install it on Samsung galaxy J5 Prime. enable (unknown sources).
You will see a warning (installing from unknown sources Main Bhi hai do your device in personal data. by typing okay, you agree that you are surely responsible for any damage to your device or loss of data that may result from using this application.)
Click OK and then click install. After install, Google account manager click on the done button.
Download Pangu FRP Unlocker apps app for android nougat
Now we are going to download Pangu FRP unlocker tool for android nougat 7.1.2. Open Pangu.in and download Pangu FRP unlocker tool. Download install date on Samsung galaxy J5 Prime.
After installing click on the open button.
Samsung J5 Prime 7.0 Frp Bypass Code
Enter a new Gmail account using FRP Unlocker
Now it will open the window click on 3.menu button and click on browser sign. here enter new Gmail ID and password.
Samsung J5 Prime 7.0 Frp Bypass Download
FRP locke removed successfully Samsung Galaxy J5 Prime
Samsung J5 Prime 7.0 Frp Bypass Lock
After entering your new Gmail account restart your galaxy J5 Prime.
After restart complete the initial set up step-by-step.
Galaxy J7 Prime Frp Bypass
Check android version Samsung galaxy J5 Prime
(Your first account is ready for you. You can add and remove account later in settings) If you see account added that's mean your mobile has been unlocked successfully.
This solution for galaxy J5 Prime but this process is also writing in other Samsung mobile phones which have android 6.0.1.