Frp Lock Samsung S3 Root Junky
Nov 14, 2018 FRP Bypass your Samsung device with Android version 7.0 in 4 simple steps: 1. Access Keyboard Settings. Google Account Sign-in. This solution has successfully been tested on the following FRP locked Samsung devices, but this unlock method should work on ALL Samsung mobile devices with Android Version 7.0 (Nougat.
FRP lock on Samsung device.the tablet is a Samsung Galaxy tab e. The article explains in detail but I cannot skip this critical step. I have tried: I've tried everything on YouTube dealing with an FRP or Google lock. I think it was caused by: I think a security patch was implemented after this method was discovered.
Universal Samsung FRP Bypass Here are the steps to remove factory reset protection / Google previously synced account lock from your Samsung device. Download and install RealTerm program Download and copy com.rootjunky.frpbypass-1.0.apk to the device micro sdcard or download once into the device start phone and connect to WIFI plug into the computer with your usb cable start RealTerm on.
Well, what comes as a fascinating fact is that, an array of "Samsung FRP Unlock Tool" are available on the internet to ensure a seamless FRP bypass. The Samsung FRP Helper V0.2 holds significant importance when we talk about unlocking your bricked device. FRP lock provides a security shield to your device when it might get stolen. It's a good way to keep your files and folders private.
May 08, 2021 Simple steps to bypass the FRP lock using Tenorshare 4uKey: First, you should download rootjunky FRP alternative – Tenorshare 4uKey for Android on your computer. Make sure that you use the official website to get it done. Once the installation process is completed, you can launch the tool to see its home interface.
If you are stuck up in a similar screen like the one given below then you are in FRP Lock on your Samsung Galaxy Android Smartphone. FRP lock means Factory Reset Protection which is a new security feature on android phones. Once FRP is activated, it blocks use of your Galaxy smartphone after a factory data reset, till you log in using the same Google username and password you previously set up on it. If you don't want to go through any of these, just remove the Google account before making a factory data reset.
Without the previous Google Account you have used on this Samsung Galaxy Android Smartphone you will not be able to proceed any further. This is a new security feature from Google which is introduced in Android Lollipop, Marshmallow and up.
Sponsored
However if you need professional support for 'FRP Unlock' Unlockjunky is the best option.
From the United states, the Unlockjunky team has been the trusted source for all Samsung Galaxy FRP unlocks since the beginning!

Unlock your Samsung now!
So how to bypass FRP lock on your Samsung Galaxy Android Smartphone?
Disclaimer: We advice you to use this tool wisely and legally. This tool is only for those who are accidentally stuck in FRP lock while factory data resetting their own phone and not for any illegal purpose.

Steps to remove FRP lock on your Samsung Galaxy Android Smartphone Android 10, Android 11 & Android 12 (For New Phones)
The tool we are using here is the the Easy Samsung FRP tool.
1. First you need to boot your phone in normal mode.
2. Now you need to connect your phone to your local WiFi network.
3. Once done please download the FRP tool to your PC from the below link and unzip it.
4. Now run the 'SamsungFrp2021.exe' file from the extracted folder.
5. In the Easy Samsung FRP Tool window click on 'Disable Drivers Signatures' and reboot your PC.
6. Once rebooted please open the tool again and tap on 'Bypass FRP'. Please make sure that your Galaxy Smartphone is connected to the same wifi network as your PC. You will get a popup from the Easy Samsung FRP Tool window like shown below.
7. Now click 'OK' and FRP unlock operation will start and you will get technical data about the process as shown below.
8. Next you will get a popup on your Samsung Galaxy Android Smartphone, now tap on 'View'. The chrome browser will open. Now skip the sync settings and open this page on your Galaxy Smartphone and tap below link to open setings page on your phone.
Frp Lock Samsung S3 Root Junky App
9. Now navigate to 'Accounts and backups' and tap to open it. Once done tap on 'Bring data from older device' and you will get a popup to download the 'Smartswitch'. Download and install the app.
10. When installed, 'Smart Switch' will open automatically, navigate through the setup process. Once done get another Galaxy Smartphone and open 'Smart Switch' on that device and tap on 'Send data' and tap on 'Receive data' on the phone which you need to remove FRP lock. Select 'Cable' for data transfer and wait for the file 'Searching for data transfer' to complete. Please make sure that you have connected the two phone using an OTG cable before doing this. When done give check mark to 'Accounts' and 'Settings' alone and tap 'Transfer' button on the bottom of the page. Tap copy on the other phone. Now you will be asked to enter the gmail password. Use the other phones password.
Once done the actual data transfer will start and when finished you will be good to go. Select the appropriate options when asked to set up your other phone account on your phone.
Steps to remove FRP lock on your Samsung Galaxy Android Smartphone (For older Version Phones)

1. To start with first you need to hard reset your device using the button combination'Power + Volume UP + Menu'.
2. Now you need to download the Samsung bypass tool from the below given link and extract it to your PC.
3. Once extracted copy the 'Bypass any Samsung Google Account Lock.apk'file to a USB pendrive with OTG feature (or you can use a OTG cable with a normal pendrive).
4. When you connect the OTG USB storage file manager will appear on your Galaxy Phone.
5. Now tap on the .apk file to install it. If the installation is blocked then go to 'Setting->Security and give a check mark to 'Unknown sources', once done install the .apk file.
6. In the next step please open the app and you will get your Galaxy Smartphone's 'Settings' menu.
7. Now tap on Back up & Reset-> Factory data reset ->Reset device -> Delete All. Your phone will restart and once done the FRP lock will be removed from your phone. You will no longer be asked for any Gmail account during the setup.
This method is compatible on Samsung Galaxy Note7, Samsung Galaxy S7 Edge, Samsung Galaxy S7, Samsung Galaxy On5, Samsung Galaxy J7, Samsung Galaxy J5, Samsung Galaxy E7, Samsung Galaxy E5, Samsung Galaxy A7, Samsung Galaxy A5, Samsung Galaxy A3, Samsung Galaxy S4, Samsung Galaxy S4 Zoom, Samsung Galaxy S4 Active, Samsung Galaxy S4 Mini, Samsung Galaxy Note 3, Samsung Galaxy S5, Samsung Galaxy S5 Active, Samsung Galaxy Note 4, Samsung Galaxy Note Edge, Samsung Galaxy S5 Plus, Samsung Galaxy S6, Samsung Galaxy S6 Edge, Samsung Galaxy S6 Active, Samsung Galaxy S6 Duos and Samsung Galaxy Alpha.
/lg-gp08nu6b-driver-download/. The above method may not work on certain models, if this is not working for you please try the below tutorials which uses a different but effective method.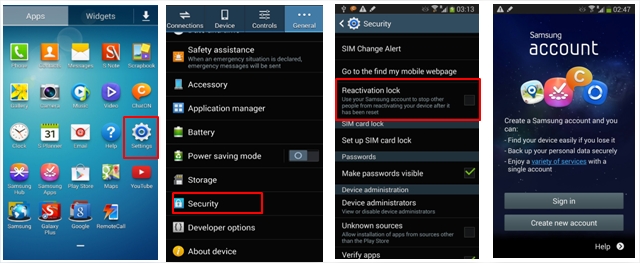 If you have faced any issues while removing the FRP lock on your Galaxy Android Smartphone, please feel free to post it in the comment section below, don't worry I will help you as fast I can.
If 'How To Remove FRP Lock On Samsung Galaxy Android Smartphone?' tutorial really helped you, please give a like/share on social networking websites by using the below given buttons.
You will need to bypass Factory Reset Protection (FRP) on your Samsung Galaxy S10 if you can no longer get into the Home screen. The FRP will be tripped if you performed the Master Reset on your phone but didn't remove the Google account prior to the reset. Actually, you won't have any problem even if that's the case provided that you know the Google account and its password that was set up on your device. You just have to set the phone up again using that account and the FRP won't prevent you from accessing your phone.
However, if you use a different account, that's when you will be locked out of your device. This is Google's way of protecting your Android phone. Stolen phones can be easily set up again if not because of this feature. There are of course, other users who accidentally tripped the FRP and now they're looking for ways to bypass factory reset protection and that's what we have to tackle in this post. So, if you're one of the owners of this device and are currently having similar issue, continue reading as this post may help you.
But before anything else, if you have another issue with your phone, drop by our troubleshooting page as we have already addressed hundreds of issues reported by the owners. Odds are that there are already existing solutions on our website or at least, there are similar problems we already fixed. So, try to find ones that are similar or related to your problem. If you need further assistance, however, feel free to contact us by filling up our Android issues questionnaire.
Bypass Factory Reset Protection on Galaxy S10
Removing FRP on your device is supposed to be so difficult to do but it can be done. For those who have tripped it and don't have any experience in flashing a firmware on phones like this, then you should just go to the service center and bring your proof of purchase and let the tech fix it for you. But for users who understand how these things work, here's what you should do:
First step: Download necessary tools / files
To bypass factory reset protection, you will need to flash the firmware. So, make sure you know the model of your device as you will be downloading the full firmware files based on that. Here are the tools or files you will be needing:
Samsung USB drivers. You can download these files manually through this

link

or you can install Smart Switch as it comes packed with necessary drivers as well.

You will be using Odin to flash the firmware on your device. Follow this

link

to download the latest version.

Download combination files for your phone depending on the model. You can download them from

here

.

Logon to

Sam Mobile

and look for the firmware for your phone based on the model.
Download these things and make sure you can find them easily.
Second step: Run Odin
You will need to flash the combination file you downloaded. With Odin opened, click the AP button and then navigate to directory or folder where you download the combination file and then select it.
After that, hit START to begin the flashing. Your phone will start up in a weird way after this but you should have access to Settings.
Third step: Enable Developer Options
You need to enable Developer Options so that you will have access to OEM Unlock. To do this navigate: Settings > System> About Phone > Tap Build number 10 times to turn on Developer Options. Once it's enabled, go to Developer Options pages and turn on OEM Unlock.
Fourth step: Master Reset your phone via Recovery Mode
Before flashing the firmware, you need to perform a full reset of your device and here's how it's done via recovery mode:
Turn off the device.

Press and hold the

Volume Up

key and the

Bixby

key, then press and hold the

Power

key.

When the green Android logo displays, release all keys ('Installing system update' will show for about 30 – 60 seconds before showing the Android system recovery menu options).

Press the

Volume down

key several times to highlight 'wipe data / factory reset'.

Press

Power

button to select.

Press the

Volume down

key until 'Yes — delete all user data' is highlighted.

Press

Power

button to select and start the master reset.

When the master reset is complete, highlight '

Reboot to Bootloader.

'

Press the

Power key

to restart the device to Download Mode.
Fifth step: Flash the firmware to bypass Factory Reset Protection
Once your phone has booted up into the Download Mode, reconnect it to your computer and then launch Odin again. Extract the firmware file and then load up appropriate files for the following: AP, BL, CP and HOME_CSC*. Once done, hit START and wait until Odin has finished reflashing the firmware.
After this, your phone will start like it's new out of the box. You may now set it up again using any Google account.
At this point, the bypass Factory Reset Protection procedure is complete.
I hope that we've been able to help you fix the problem with your device. We would appreciate it if you helped us spread the word so please share this post if you found it helpful. Thank you so much for reading!
Connect with us
We are always open to your problems, questions and suggestions, so feel free to contact us by filling up this form. This is a free service we offer and we won't charge you a penny for it. But please note that we receive hundreds of emails every day and it's impossible for us to respond to every single one of them. But rest assured we read every message we receive. For those whom we've helped, please spread the word by sharing our posts to your friends or by simply liking our Facebook page or follow us on Twitter.
RELEVANT POSTS: