Bypass code for calling is used while a device is on factory reset protection. We have also use a tool to FRP Call program "Just one click to make a call". also known as allow the user to make a call while the Android Samsung device is FRP locked. The user just needs to copy and paste two codes into your application console and have to press a button it will make calls automatically. Do not use the latest version of real-term only use given older version. pangu.in/bypass-frp or pangu.in/bypass.frp
Contents
Remember Bypass Samsung Pangu application will only work on the Marshmallow, Lollipop, Nougat you can also use this application on any other mobile phone. You can use " Bypass Samsung Pangu FRP Account login Tool" without paying any dollar. If you have an older version then use Samsung frp settings.apk. PANGU FRP Bypass Tool: The Pangu FRP Bypass Tool can be used to unlock devices easy and fast, and it will work for Samsung devices, Xiaomi Mi phones, Micromax, Motorola, Lenove and MTK deviecs. In order to use this tool you will require a OTG cable with a pen drive and a computer. FRP BYPASS APK aka FRP Bypass Tool is mainly used for Bypass Android Factory Reset Protection (FRP) without using any PC or Any other PC tools or dongles. If you forget the Google Account password after the factory reset, then it comes very usefully to access your device home screen once again.
1

Bypass codes for calling while FRP locked

1.2

Bypass code "Bypass code for calling while FRP locked"

1.5

Download Samsung FRP Calling Tool Remove
[embedyt] https://www.youtube.com/watch?v=8liBlwjcb9g[/embedyt]
You need to download real-term software for connecting Samsung device to modem port. Install and run real-term then just connect your device to the computer and send bellow written code. It will make a call on the locked mobile phone. after that try to open chrome browser. You can also use FRP calling software but I will not recommend using Fast FRP caller.
The Real-term application Software is clean and application. one more software can be used for purpose of calling. FRP tool works faster then real-term because Realterm takes more time to do the same task. But it is secure and safe. this software will not harm the computer in any condition.
How to use Code – How to calling on a locked device.
This software is easy to use you have to download this software from the official site or from the download link in Pangu.in. After download installs it onto the computer. the Realterm version must be older do not use the latest version.
The latest version not working on this operation. After installation runs it and connect the mobile phone using a data cable and check to comport from device manager. the same port number must be entered in Realterm input fields.
use below code for enabling cellular connection and calling option. one by one use these codes It will make a call. after entering calling, code hit on send ASCII button. You can read explained steps here How to use Realterm FRP tool and download link
Bypass code "Bypass code for calling while FRP locked"
Realterm calling codes command
198 = is a customer care number you can use your second number.
you can use your own phone number here.
or use FRP calling tool link below.
FRP calling tool (Not recommended)
"frp calling tool" ADB-FRP.zip –
Banished for mac. I will not recommend it because it contains mal-ware. But because of people requirement, I am only giving this link, I will not be responsible for any damage or harm in the computer do not use your personal computer especially.
this is More simple computer software to generate a call into lock device I was using it but when I have found something wrong while using this application. I had to close antivirus for a minute.
Bypass FRP with Samsung FRP Tool Remove, Reset 100% Tested
Download Samsung FRP Calling Tool Remove
Samsung FRP Calling Tool
Samsung FRP Calling Tool helps us in Remove Google account lock in Android mobile phones. It is very simple to use in a single click it creates call on the locked phone. You can Download "Samsung FRP Calling Tool Remove" from the below link. do not distribute this application for paid.
DownloadSamsung FRP Calling Tool
Required tool into the process after the call
All the above steps or solution tested only in Samsung mobile phones this solution you are not working in LG and Nokia mobile phone please do not try to unlock your device other than Samsung
Related
FRP, also known as Factory Reset Protection, is a phone data security feature released by Google with Android 5.1 Lollipop and above. On the basis of this feature, if you lose your Android phone and any unauthorized person attempts to reset it, your phone will require him/her to enter the Google Account ID and password in order to get access to the phone. So, FRP Lock is designed to minimize the activities that may threaten your phone data.
However, FRP Lock can be a big headache if you are stuck at Google Account Verification while resetting the phone and you unfortunately forgot the user name or password, then we have got your back. In this article, we have picked the best FRP bypass tools. So you can make use of any of them to help you remove the FRP Lock easily and bypass FRP in Android phones, including Samusng, Alcatel, Motorola, LG, HTC, Huawei, etc.
Tool 1: FRP Hijacker Tool (For Samsung Only)
The FRP Hijacker is a wonderful FRP bypass tool for PC. It should be noted that it is only compatible with Samsung smartphones. It has inbuilt tools to break the lock of Google account. FRP Hijacker enables the user to unlock the phone by removing the Samsung FRP while in the ADB mode.
Above all, you have to enable the USB debugging on your Android which is locked by Google. Enable the USB debugging means you are now able to activate the ADB mode of your phone, and this is a prerequisite for FRP lock removal.
Step 1. Turn on TalkBack on your Samsung phone.
Step 2. Now open the Calculator app of your phone and then input +30012012732+ as your special calculator code to enable USB.
Step 3. Then input the code *#0808# and enable the USB settings. After that, your phone will enter into the ADB mode. Then you can proceed with the following steps to use the Hijacker tool to remove the Google account verification on your Samsung device.
Step 4. Connect your phone to the computer with a USB cable.
Step 5. Launch the Hijacker tool on your computer, click on the Scan option, and then select 'COMPORT'.
Step 6. Go to 'ADB Operation' tab, select 'Remove FRP' and meanwhile tap on 'Allow USB Debugging' on your Samsung.
Step 7. Once you click on 'Remove FRP' again, your computer will identify the device automatically.
Step 8. Select 'Factory Reset' option to go further. After that, you are able to change the Google account settings for fresh with the new setup.
There is one good thing is that after resetting your phone, you can still recover deleted data from Android after factory reset with this professional Android Data Recovery software.
Tool 2: Pangu FRP Bypass tool
Pangu FRP Bypass tool is one of the best FRP lock removal tools available for almost all Android smartphones. It enables you to bypass Google account using OTG cable and the processing time is just about 10 minutes. And please note that this facility is only for the Authorized Google account owner. To bypass FRP with computer you just need to download this tool from their website.
Pros:
Free without charge.
Remove FRP Lock at fast speed.
Supports Samsung phones, Micromax, Mi, Motorola devices, Lenovo, MTK, etc.
Cons:
It requires using an USB OTG cable, a pen drive, a computer, and an internet connection.
It requires you to have a little tech skills as the bypassing process is complicated.
Tool 3: FRP Bypass APK Download Samsung for Android
Pangu Frp Unlocker
Having gained trust from the users already, FRP Bypass APK Download Samsung for Android is one of the most rated FRP removal tools with 4.1 stars. It helps to overcome the security feature of Samsung device so that you can easily bypass Google Account verification process. And you can access this tool through the link above.
Pros:
100% free to use.
A useful tool for Samsung Galaxy devices.
Cons:
You cannot access this tool directly through the local or direct resources.
Tool 4: New FRP/Google Account Bypass and Flashing Tool
Like all the other FRP Bypass tools, Google Account Bypass and Flashing Tool is one of the useful and simple tools in your hands to bypass Google account verification on Samsung, HTC, MI and other phones. This tool is quite handy and easy to use on nearly all Android devices with latest Android version.
Pros:
Samsung Frp Bypass Pangu
Compatible with almost all the Android devices.
Works best for devices with latest Android versions.
The old version of SP Flash is also covered by this tool.
Free to use.
Cons:
Not tested with Android versions 5.1.1 and 6.0.1.
Tool 5: GSM Flasher ADB Bypass FRP Tool
The GSM Flasher tool is a very helpful tool in the process of bypassing FRP in Android devices, and this tool has been very successful with Samsung devices and some other brands too. Please remember that it requires ADB mode active in order to bypass Google verification. Once you enter into the ADB mode in your device, you can easily use this tool to remove FRP Lock on your phone.
Pros:
It can be used for all types of Android devices.
It has an easy-to-use interface.
Pattern lock removal facility is also available.
This file can be used for the reactivation of lock removers.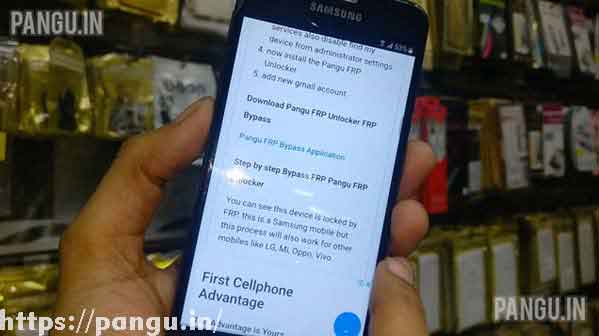 Cons:
It requires ADB mode active.
Tool 6: D&G FRP Bypass Tool
D&G FRP Bypass Tool is one of the simple and useful FRP bypass tools available in the market. Unlike other FRP bypass APKs for Android, this tool need to be installed on computer in order to use it to bypass FRP Lock. It helps to unlock and bypass Google account verification after hard reset on Samsung, Motorola, Lenovo, Xiaomi, Huawei and more.
Pros:
Offers free setup for every Windows OS (XP/7/8/10/Vista).
Available for free.
Cons:
It may not support LG devices.
Bypass Samsung Pangu Frp File
Tool 7: FRP Lock Google Verification Bypass Tool
FRP Lock Google Verification Bypass Tool Software, as an totally free FRP bypass tool for PC, is handy and supports major Android brands like Samsung, Xiaomi, Motorola, OPPO, Vivo and other Android phones.
Pros:
Works for almost all Android phones with Reactivation Lock problem.
Works for Android versions 5.1.1 and above.
It is available for free.
Cons:
It need a computer, a WiFi connection or a USB cable.
Tool 8: Samsung FRP Helper v0.2
The Samsung FRP Helper v0.2 is developed by CrackingGSM Team. Similar to other FRP removal tools, this tool can be used to bypass the FRP verification process. To use this Samsung FRP Removal tool, you also need to enable the USB debugging of the device as this tool can only be used to bypass the Google account in ADB mode. You can find the method to enable the ADB mode of the device above. Download this tool on your PC and just simply follow the similar steps like Hijacker tool to bypass FRP on your Android.
Pros:
This tool has an interactive, clean and user-friendly interface.
It offers a detailed tutorial guide on how to bypass the Google account.
It is a stable and easy-to-use FRP bypass tool.
It is available for free.
Cons:
It can only be used to unlock Samsung devices.
You have to enable ADB mode on your phone.
Tool 9: Samsung Reactivation/FRP Lock Removal Service
Samsung Reactivation/FRP unlocking service is an online service which helps you to remove the FRP Lock and gets you back into your Android phone. Visit this site and it will ask you the model and IMEI of your phone, so just put the details in the required fields to get the unique user ID and password within 24-72 hours. However, this is an exclusive FRP bypass tool for Samsung devices only.
Pros:
No confusing video tutorial and no risky software available in this website.
You don't need to be a tech-savvy to use it.
Issues will be solved within one to three days.
Cons:
It supports Samsung phones only now.
Tool 10: Bypass FRP Through Online Website (Paid)
The above FRP bypass tools may be quite complex and the non-technical person may find it troublesome. So, if you are not tech-savvy and unable to unlock the FRP of your device using the above-mentioned tools then you must go for this alternative which is applicable to any Android device. The best part is that it can be done from the home and it can be accessed anytime, so you need not to walk to any office or shop.
You can easily bypass your Google account on your Android phone of any model or version with the help of this online tool. This involves a very simple process and hardly takes 10-15 minutes to unlock the device. However, you need to pay some amount to the website owner for this service. Most importantly, it will never fail to remove the FRP Lock.
Now, follow these simple steps to unlock your device online:
Visit unlockjunky website, there you will see an option to choose your device.
Now, fill the details by selecting your device, unlock type and initiate the order.
The website will offer you their software which can unlock your device. Now, download and launch that software on your computer and get your device connected to it.
You can find an option for a live chat on the website. Go for it and follow the commands of the instructor from another side.

Summary
So these are some of the best and latest FRP bypass tools to remove Google account verification and deal with FRP Lock in any Android phone for free. Use them now to bypass FRP on your Android device and help other people around you if they need such help. And just tell us which bypass tool you found most helpful. If you also know some best FRP bypass tools or got any feedback, please feel free to share with us through the comments.
Related Articles
New Articles